Make it fresh this summer !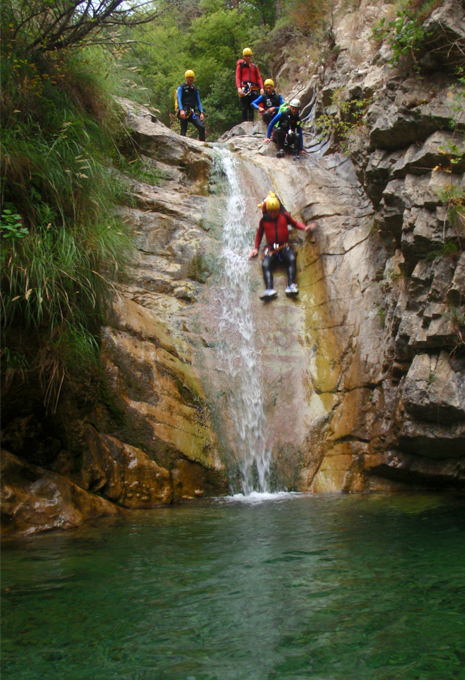 The river's water built some tight and deep gorges ; canyoning involves crossing them. It's a fantastic succession of waterfalls and natural ponds that we jump across, sliding or using the help of ropes. This recreational journey takes a place in a exquisite wild and natural environment.
Requested condition : enjoy playing in the water!
Which level ?
The canyon downhill can be exercised depending on age, skills and feeling. From half-day trip family discovery to several days competitive race. Children must weigh at least 30kgs and it is preferable to know how to swim and enjoy playing in the water. For smaller children, we advise a half-day canyoning.
Level 2 (discovery) : Course accessible to beginners, sometimes requiring the use of ropes and specific equipment. Cramassouri, Bollene, Cuébris, Guiou.
Level 3 (improvement) : More technical and longer athletic course. It is preferable to already have practised the activity. Riolan, Maglia.
Level 4 (athletic) : Requires good physical condition and good technical handling. Morghé, La
Peïra, and the famous Bendola.
Which locations ?
In the most beautiful canyons of Alpes-Maritimes area, from half an hour to an hour and a half
away from Canyon Forest.
Check the map with the different canyons..
When ?
Canyoning is usually practised from May to October.
Equipment to bring ?
Trainers, swim suit, sport socks, towel, drinks, picnic for full-day trip.
Payment method : bank check with ID or cash.
Informations and reservations
At Canyon Forest's reception or by phone at +337.81.34.52.92.
A deposit, check or cash, will be requested for the reservation to confirm your registration.
The trip is possible from 5 participants. Maximum of 8 people per guide.
All of our guides are State registered, it is of their responsibility to cancel a trip until the last moment for safety reasons related to weather risks.
Level 2
half day pass
Single price
50€
Reduced price
6 people & more
45€
Level 2
full day pass
Single price
65€
Reduced price
6 people & more
60€
Level 3
full day pass
Single price
70€
Reduced price
6 people & more
65€
Level 4
full day pass
Single price
90€
Reduced price
6 people & more
85€